| | Versatile Award | |
Sunday, March 08, 2015
Hello Beauties,

So this past week I was nominated for the Versatile Award (applause) by Three Amazing Beauty Bloggers: The Other Dream Girl and Your Style Your Happiness and Izzy K. Sooooo a Big Gigantic thank you to them for thinking of me. That means so much that my blog is getting such recognition. I've really been working harder on it and it seems like everyone is taking notice.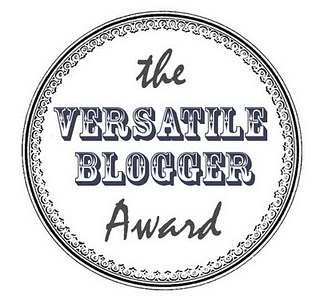 _______________________________________________________________________


So here are 7 facts about myself...............
1) I am a volleyball player. I play for my schools team and in the summer I play with the girls in the community where my dad lives up North.
2)My dream college is FIT in New York and I follow and watch so many people on youtube that go there so that I am completely prepared. Its actually kind of sad at how many times I have watched there dorm tours or requested a What's in My College Bag but what can I say? I fell in love with the college when I visited it last summer.
3)I love all types of music but I have a soft spot for musicals. Like Hairspray, Mama Mia, Les Miserables, Dream Girls, Burlesque. One of my Favorite bands are Florence and the Machine, they are playing at the governors ball this year and I can't go but if they play next year I will def be able to make it.


4)My Favorite color is plum, Idk, I just love the color. Its so vibrant and beautiful. My second Favorite is Tiffany Blue.
5)I have a weird obsession with gossip girl. Don't judge me. Me and Blair are literally the same person. I'm not even exaggerating. I'm just waiting to meet my Chuck Bass.
6) I am a highschool Junior. I am actually graduating a semester earlier because my school offers that and I haven't quite figured out what I am going to do in the 5 months I have to myself. I am super excited to graduate next January. I know that I will miss my friends but right now that is the best thing for me. I need to figure myself out first.
7) I unfortunately live in the state of North Carolina. The only thing that I don't like is that there is never anything to do and that you need a car to get everywhere because it is so spread out. What also sucks is that I don't have a car and I wont be getting one until my 18th birthday. There isn't even a bus system that I could use.
Nominees
___________________________
Thank the person who gave you this award, and leave a link to their blog
Tell the person who nominated you 7 things about yourself
Select 15 blogs/bloggers that you've recently discovered or follow regularly
Nominate those 15 bloggers for the Versatile Blogger Award
I hope you guys enjoyed this post, you guys got to learn a little bit more about me.
Until Next Time......................................